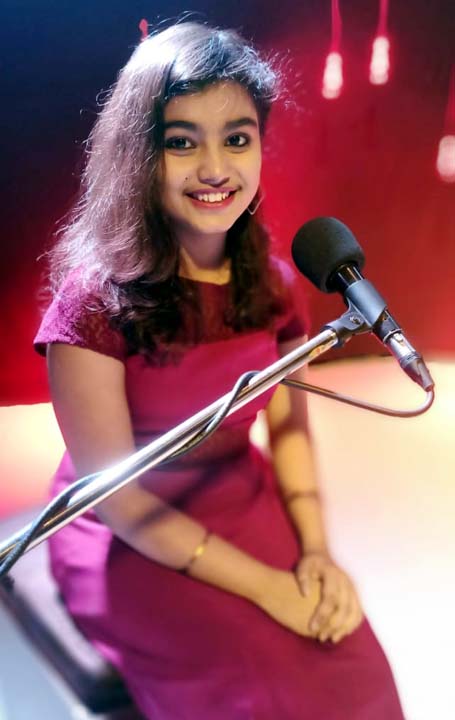 Aratrika Bhattacharya is an Indian rising star in the domain of music. Her impressive voice, appreciative sense of music and ability to sing songs ranging from semi-classical to modern songs have successfully fascinated audiences of all generations. Being a teenager of 17 years, all the credits of her achievements go to her parents, her gurus and her tremendous passion for music.
Starting at the age of five, eleven years have passed since she started taking vocal training. Her mother first introduced her to music at a very tender age. She is her first guru and one of the biggest inspirations. Currently she is learning core classical from her Guruji Pandit Niharranjan Bandopadhyay and in Lalitkala Academy from honourable Simanta Sarkar.
It was also a privilege for her to get a one-month crash course training in western music from Eric Foster, a German Faculty at AR Rahman's academy. She has been blessed to have such noble guidance from her Gurus and her parents. Appearance in reality shows like " "The Voice India Kids Season 1" and "Zee Tv Sa Re Ga Ma Pa Lil Champs" gave a sudden boost in her confidence and stage experience. She also performed in several Bengali shows like "Akasher superstar", "Suprovat", "Esogaane vasi", "Saat Sokaler Sure" and " Sokal Sokal" in DD Bangla. Recently she was also honoured to do a live concert on the "Sangeet Kala mandir " Facebook page.
Her captivating voice also brought her the winning prizes in several competitions like " Kolkata Talent Hunt 2019" , "TTIS Talent Hunt" organised by Telegraph for schools, "Tia Salem international competitions", "Indian Art League" and lastly " Digital Icon " organised by 94.3 radio 1 and 104.8 Fever FM . In the year 2019, she got the opportunity to release her first Bengali original album " Tomari Jonnyo" consisting of two songs namely "Ei Astarag" and "Chena Kobitar Golpo" composed by Banikantha Saha and penned by Lilamay Patra and Abhijit Titul Dutta respectively. In 2020 her next Bengali original "Durbeen" was released by the Rooh Music company.
The next release was in collaboration with Craqit India named " Dil Ki Baat" composed by Indrajit Dey Indra and lyrics written by Rajiv Chakraborty. All these releases motivated her to release a song first time in her own composition and Lyrics called " Shudhu Khuje Jay" recently on 21st June 2021. The song got quite admired by people and received 10K+ views within one month Her voice and singing ability has been appreciated by legendary artists and music directors like Usha Uttup Ji, Neha Kakkar, Javed Ali, Neeti Mohan, Shekhar Rajviani, Debojyoti Mishra, Raghob Chatterjee, Lopa Mudra, Savvy and Subhankar Bhaskar.
The music abilities which she possesses has not remained unnoticed as she has a music page to herself "Aratrika Bhattacharya" which is followed by more than 222K people and many other digital news pages like "Dailyhunt"," Fameriser", "Times of India" and "Aaj Sakal has covered her news and admire her music Music has always been one and only passion in her life and she desires to excel more in this field hoping to shine with the beauty of music