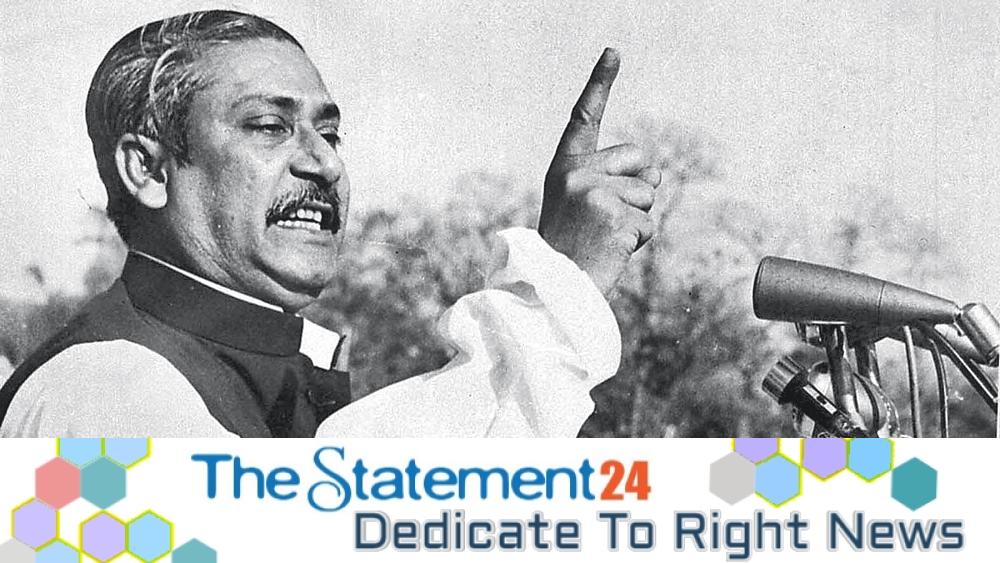 The final stage of Language Movement
Although Mujib had been incarcerated since October 1949, he had managed to establish close contacts with the politically active leaders and workers and through them, he ensured that an All-Party State Language Action Committee was formed. He supported them to observe 21st February as a 'State Language Day. At the same time, he informed the authorities that he would go on an indefinite hunger strike from February 16 for his confinement without any charge. Soon afterward on February 14, the authorities moved him from Dhaka jail and sent him to Faridpur jail.
On February 21, the students defied Section 144 and were fired upon by the police. That incident resulted in the killings of Salam, Barakat, Rafique, Jabbar, Shafiur, Abdul Awal and Ohiullah as martyrs of the 'Language Movement. Mujib's hunger strike continued for thirteen days and his health began to seriously deteriorate. The authorities were, therefore, compelled to release him from jail on February 28.
AL-led United Front Election and first victory of Boat
Mujib was elected as the general secretary of the East Pakistan Awami Muslim League at its council meeting in 1953. He made efforts to build unity among Maulana Bhasani, AK Fazlul Huq and Shaheed Suhrawardy aiming to defeat the Muslim League in the coming elections. Thus the United Front came into its existence following a special council session of the Awami League on November 14.
However, in the first general elections in East Bengal in 1954, the United Front won 233 seats out of 237. The Awami League alone won in 143 sets. Mujib defeated influential Muslim League leader Wahiduzzaman by a margin of 13,000 votes in the Gopalganj constituency. He took an oath as minister for agriculture and forest in the new provincial government. The central government however declared the United Front cabinet illegal on May 29 and arrested Mujib once again when his plane landed at Dhaka airport from Karachi the following day. He was in prison till December 22.
Later, Mujib was elected as a member of the Constituent Assembly on June 5 in 1955. The Awami League held a public meeting at Paltan Maidan on June 17 where a 21-point program was placed demanding autonomy for East Pakistan. On June 23, the Awami League working committee members decided that the Awami League members of the Legislative Assembly would resign if autonomy was not granted to East Pakistan.
Brave Mujib protests in Assembly
On August 25 in 1955, Mujib told the Pakistan Constituency Assembly in Karachi: "Sir, you will see that they want to use the phrase 'East Bengal' instead of 'East Pakistan'. We have determined many times that you should use Bengal instead of East Pakistan. The word 'Bengal' has a history and tradition of its own. You can change it only after the people have been consulted. If you want to change it, we have to go back to Bengal and ask them whether they are ready to accept it. As far as the question of one unit is concerned it can be incorporated in the Constitution. Why do you want it to be taken up right now? What about the state language, Bengali? We are ready to consider one unit with all these things. So, I appeal to my friends on that side to allow the people to give their verdict in any way, in the form of referendum or in the form of plebiscite."
Also, Mujib took the initiative to make his party a secular one on October 21 at a special council by dropping the word 'Muslim' from its name. He was also re-elected general secretary of the party. In the following year, Mujib made his party take a resolution that opposed the military influence in the administration in July. He also led an anti-famine procession on September 4 defying Section 144. But police shot fired killing at least three persons in the Chawk Bazar area.
Party or cabinet?
However, on 16 September (1955), Mujib assumed as the minister for Industries, Commerce, Labour, Anti-corruption and Rural Development in the coalition government. But he resigned from the ministry on May 30 in 1957 to coordinate his party more effectively. Between June 24 and July 13, he visited China on an official tour too. Sheikh Mujib was arrested on October 11 in 1958 after Pakistan's President Major General Iskander Mirza and Pakistan's army chief General Ayub Khan imposed martial law banning all political activities. He was continuously harassed in false cases. He spent most of his time in jail during martial law.
However, in 1961, the high court declared his detention unlawful. When Mujib got released from jail, he started covert political activities against the martial law regime and dictator Ayub Khan. He set up an underground organization called 'Swadhin Bangla Biplobi Parishad' (Revolutionary Council for Independent Bengal) with student leaders to drum up support for the independence of Bangladesh.
[To be continued…]
Aleem Haider: Poet and member of the National Poetry Council.